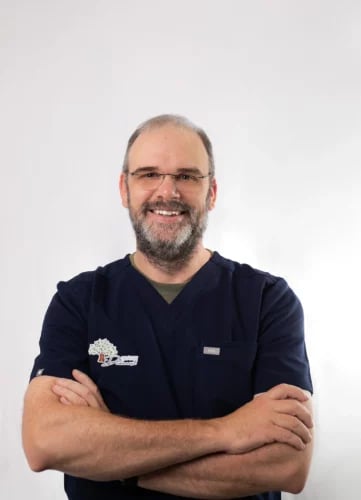 Dr. Rumsey was born in Kittery, Maine. He graduated from Bangor High School in 1991. Dr. Rumsey earned his bachelor's degree from the University of Maine in Orono in 1997 where he was a member of the Alpha Zeta Honors Fraternity. Dr. Rumsey joined the United States Army in 2003 and then went on to receive his Doctor of Osteopathic Medicine degree from the University of New England, College of Osteopathic Medicine in 2007. Dr. Rumsey completed his Ob/Gyn residency at Brook Army Medical Center in Fort Sam Houston, Texas and has been a board-certified Ob/Gyn since 2011.
Dr. Rumsey started his career at USA MEDDAC in Fort Drum, New York in 2011 where he worked as a staff Ob/Gyn. In September of 2012, Dr. Rumsey was deployed to FOB Apache, Afghanistan where he served as Battalion Surgeon of the 4th Brigade Combat Team, 2nd Infantry Division in support of Operation Enduring Freedom. He safely returned home in June of 2013 and served as the Chief of the Department of Ob/Gyn at USA MEDDAC in Fort Drum, NY until September of 2015. Dr. Rumsey returned to his home state of Maine and joined our practice in September of 2015. After working alongside Dr. Benoit for four years, he took over ownership of Downeast Ob/Gyn in 2019. He now proudly owns the only private practice in the greater Bangor area that offers obstetrical and gynecological care.
Dr. Rumsey is skilled in full spectrum gynecological care to include, treatment and management of urinary incontinence, pelvic organ prolapse, and abnormal uterine bleeding. In addition to that, Dr. Rumsey also provides prenatal and postpartum care – he is particularly proud to care for military, law enforcement, and first responder families. Dr. Rumsey strives to provide a nurturing and reassuring approach to patient care and strongly believes that an exceptional patient-provider relationship is built on the foundation of trust. 
Dr. Rumsey lives in Orono with his wife Erin. Together they have three daughters: Genevieve, Roisin, and Molly. He is a member of Cesky Fousek North America where he got his beloved dog, Cadi. He has a particular interest in dog training and likes taking Cadi bird hunting when he has the time. He enjoys traveling to new places with his family, and sampling the finest scotch he can find – he even belongs to the Scotch Malt Whiskey Society.