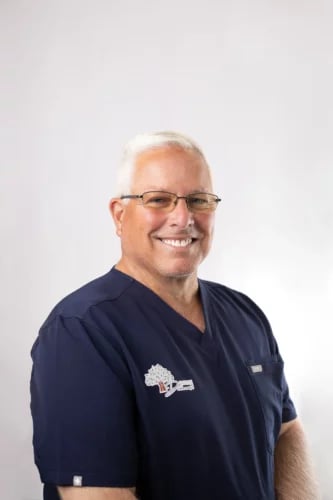 Dr. Benoit was born and raised in Bangor, Maine where he graduated from Bangor High School in 1974. Dr. Benoit earned his bachelor's degree from the University of Maine in 1978, where he was a member of the Academic Honor Society, Phi Betta Kappa. He then went on to earn his Doctor of Medicine degree from the University of Vermont in 1982, where he was a member of the Academic Honor Society, Alpha Omega Alpha. Dr. Benoit completed his Ob/Gyn residency at Maine Medical Center and has been a board-certified Ob/Gyn since 1990.
Dr. Benoit began his career in 1986 working alongside Dr. Vance Aloupis in his hometown of Bangor. After eight years, Dr. Benoit made the decision to branch out and start his own private practice in 1994. For twenty-five years, he worked diligently to make sure women had access to quality obstetrical and gynecological care. In 2019, Dr. Benoit passed ownership of Downeast Ob/Gyn to Dr. Rumsey. For the last four years, Dr. Benoit has continued to work alongside him providing the same exceptional care we are all accustomed to.
Dr. Benoit's true passion began with obstetrics – he has had the unique experience of delivering and caring for generations of families. I think this speaks for itself when it comes to the devotion he has for his patients and the type of care he strives to provide to women of all ages. Though he is no longer one of our delivering providers; he is still in the office providing full panel gynecological care ranging from routine to complex cases and performing minimally invasive surgeries. You might get lucky and catch Dr. Benoit when he is on call for delivery. 
Dr. Benoit lives in Old Town with his wife Paula; together they have five children and six grandchildren. In his spare time, he enjoys fishing, watching football (his favorite team is the Giants), and spending time with his family at his condo in Georgia.