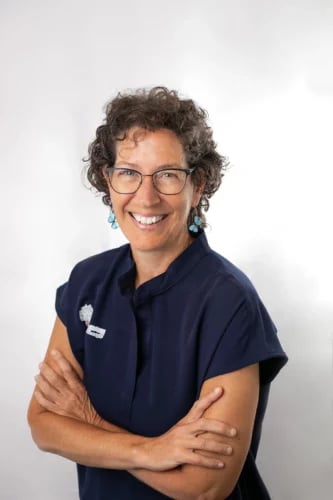 Dr. Kauffman was born in Lubbock, Texas. She graduated as salutatorian of her class from Hopewell Valley Central High School in Pennington, New Jersey in 1986. Dr. Kauffman earned her bachelor's degree from the University of Virginia in 1990. She went on to receive her Doctor of Medicine degree from Duke University in 1994. Dr. Kauffman completed her Ob/Gyn residency at the University of Michigan in 1998 and has been a board-certified Ob/Gyn since 2001. 
Dr. Kauffman moved to Maine in 1998 and started her career at Acadia Ob/Gyn in Bangor. She then transitioned to Northern Light Eastern Maine Medical Center where she worked part time to create a healthy home and work life balance. Dr. Kauffman joined our office in 2011 and has played an integral role in providing the excellent care we pride ourselves on for the last twelve years. 
Dr. Kauffman is skilled in minimally invasive surgeries, providing prenatal and postpartum care, managing complex gynecological issues, hormone replacement therapies, and performing in office procedures such as: colposcopies, endometrial biopsies, and IUD insertions. Dr. Kauffman's true passion lies within helping women in need. She is empathetic to her patients' concerns and strives to provide a calming approach to medicine.
Dr. Kauffman resides in Northport with her husband and has three grown children. She enjoys traveling along the coast of Maine and visiting her children in their home states. Dr. Kauffman lives an active lifestyle and spends a lot of time outdoors either hiking or jogging. She also enjoys quilting in her spare time.