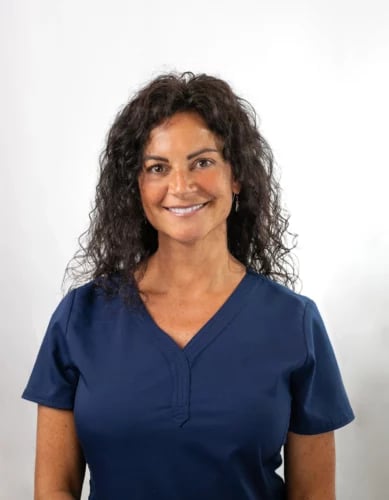 Shelley grew up in Glenburn, Maine and graduated from Orono High School in 1990. She later moved to Portage Lake, ME where her husband worked as a game warden. While living there, Shelley attended Northern Maine Community College where she earned her degree in nursing in 2002. Upon graduation, Shelley worked as a Registered Nurse at The Aroostook Medical Center on the mother and baby unit for four years before she and her husband returned to their hometown to raise their two children. 
In 2007, Shelley began her career in Bangor at Northern Light Eastern Maine Medical Center as a circulating nurse in the Operating Room where she worked with local surgeons and assisted in minor and major surgeries – she even had the privilege to assist Dr. Benoit with cesarean sections. Shelley joined Downeast Ob/Gyn in 2008 where she worked part-time until the completion of her career at Northern Light Health. She has been with us full-time since 2012 and works as the Clinical Nurse Manager where she oversees our clinical staff as well as patient triage and ACOG visits. 
Shelley lives in Bangor with her husband, Jim. Together they have two sons, James and Scott, and three beloved dogs: Murphy, Mary, and Finn. In her spare time, she enjoys traveling anywhere with warmer weather, hunting and fishing, and spending time with her family and friends. In 2022, Shelley became a Registered Maine Guide and now works with her husband providing guided fishing trips.